We are told that as long as we have enough money for retirement then we are set for the rest of our lives. Unfortunately, many find retirement to be a time of very difficult transition, including myself. Our work provides us with many benefits beyond mere money. Many of us find our personal identity, our life's purpose, and our primary social relationships tied up with our jobs. When people leave their jobs, they often find themselves at loose ends without any structure or even a reason to get out of bed in the morning. For many people in retirement they are looking at another 20-30 years that can be filled with either satisfaction or disappointment.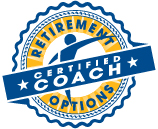 Having experienced this transition first-hand, in 2018 I became a Certified Retirement Coach through Retirement Options: to help my clients gracefully transition through retirement.
Using their retirement assessment, professional tools and exercises I will work with you to find meaning, purpose, and goals for this crucial period, now and for the future. This should be a time of excitement and exploration as you look forward to having even greater impact in the lives of your family, friends and community.
It is not what you are retiring from, but what you are retiring toward that should define your future.