David Ladd MDiv., PCC, ACPEC.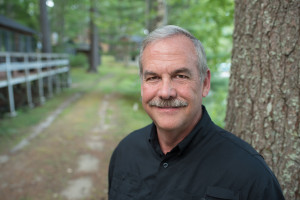 As a coach, I bring a strong combination of training, education and experience to bear in service to my clients.
When you are hiring me as a coach, you are benefiting from more than just my training, education and experience.
I have lived a rich and varied life. Like everyone, I have had to deal with hardships, loss, transitions and change. No one is perfect and neither are our lives. I have learned through the years that it is not the problems one faces, but how you react and grow through them that define your existence.
In my life and career, I have made it my purpose to meet people where they are and encourage them to gain peace and to achieve their goals. From my ministry work, police chaplaincy, and non-profit service I have striven to help others realize that they are people of worth and value. From that place, they can then work toward a happy and fulfilled life.
After taking an early retirement from ministry due to health concerns (which I have since overcome) I sought a new avenue to put my skills and talents to use. Life Coaching takes what I have done in the past, and adds new skills to enable me to be of greater service to an even broader audience.
In addition, here are a few things you might be curious about:
I love the outdoors. I grew up racing and cruising sailboats and I continue to sail whenever I have an opportunity. I also grew up with a deep love of the lakes, woods, and spending time canoeing in Maine.
Traveling both domestically and internationally has and continues to enrich my life in many ways.
Reading is a passion of mine and I enjoy fiction, history, personal finance, and personal improvement.
I have been married for more than 40 years, and together we have two adult children, five grandchildren, and a German Shepherd named Petra.
Life Coaching: Helping you get from where you are to where you want to be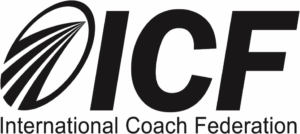 I am a Professional Certified Coach (PCC) through the International Coaching Federation (ICF). The ICF is the largest and most respected credentialing body both in the US and international community requiring strict training and ethical standards.
Executive Coaching is an important arena of Coaching
Executive Coaching is designed to provide executives to help them maximize their potential. Then help them discover new possibilities, and to work happier while being more productive. To go beyond where they are currently and discover ways to achieve their goals.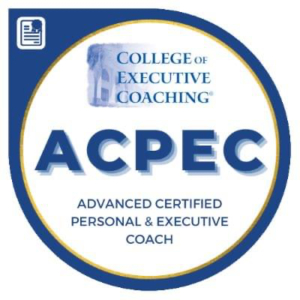 I have undertaken a number of trainings in this area and I have completed the 128-hour post-graduate training and received the Advanced Certified Personal & Executive Coach(ACPEC) certification through the College of Executive Coaching.
Retirement Coaching
Help I'm retired. Now What? Our society and financial industry have for many years encouraged Americans to retire without asking what they want to do when they do retire. It is crucial both before, and during, retirement to address what many feel are losses of identity, purpose, time management, and socialization. The average American will spend more than 20 years in retirement, but will those be happy and purposeful years or just a very long time engaged in what has been called "idle busyness?"
As reported by Forbes and Kiplinger Magazine, retirement coaching is a growing field. I am trained and credentialed through Life Innovations as a Certified Retirement Coach.
Co-active Coaching Training by CTI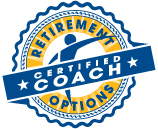 I also have received certification from completing training with The Coaches Training Institute (CTI). Over the last 15 years, the CTI has trained over 35,000 new coaches and today trains more new coaches each year than any other training program worldwide. Through its cornerstones, Co-Active Coaching evokes transformation by focusing on the whole person, respecting them as they are, and holds that all people are naturally creative, resourceful, and whole.
30+ Years of Pastoral Counseling & Coaching
In addition to Graduate Courses and other training in Pastoral Counseling, for the last three decades, I have worked with and counseled people from coast to coast both inside and outside of faith-based organizations.
15+ Years of Law Enforcement Chaplaincy
I have served as a Police Chaplain for over 15 years in Virginia and California. This work was with not only the officers but also the citizens they served in their daily work.
20+ Years Serving on a Charitable Foundation
I work with and serve on the board of a regional charitable foundation. This work included a stint serving as the board president. This has given me experience and insight into the world of non-profits, especially in the areas of domestic violence, homelessness, youth development and training.
Additional Trainings
This is the leading inventory used today to discover the strengths and growth areas of couples. This allows greater understanding, exploration, and training for success with pre-marriage and married couples.
Critical Incident Stress Debriefing
This is a methodology used nationwide by law enforcement and other first responder departments to aid their members to process and deal with the impact of traumatic experiences.
Education
Masters in Divinity from Harding Graduate School of Religion with an emphasis in counseling.
Bachelor of Science Degree in Business Administration from Pepperdine University in Malibu Calif.